When it comes to using flat roofs for residential and commercial buildings, there's no one better to ask than your Roofing Contractor in Las Vegas. For more than 25 years, the owner of Weatherguard Construction has been inspecting, repairing, and replacing roofs. Flat roofs are of particular interest because they make the residential or commercial property more energy efficient and often are less expensive to construct and maintain.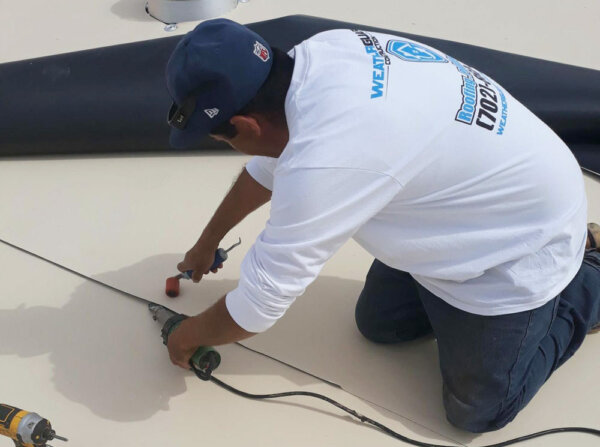 Residential and Commercial Flat Roofs
When it comes to accessibility, maintenance, and replacement costs, flat roofs are the clear choice. In addition to the initial construction being less expensive, the ongoing costs are less as well. That's because flat roofs are more accessible to roofing contractors for inspections, repairs, and replacements. We just need a ladder to access whereas a pitched roof may require safety equipment. Residents like this type of roof because of the extra outdoor space for socializing; just make sure there are safety measures in place.
For commercial buildings, flat roofs are also the economical choice and provide access for building maintenance. In the case of urban residences, flat roofs provide gardens and gathering spaces and for hospitals, they also provide access to emergency helicopters, increasing accessibility for first responders and their trauma patients.
The benefits of flat roofs may outweigh the risk of water damage, especially in sun-soaked Las Vegas, but not all roofing materials are equal.
Types of Flat Roofs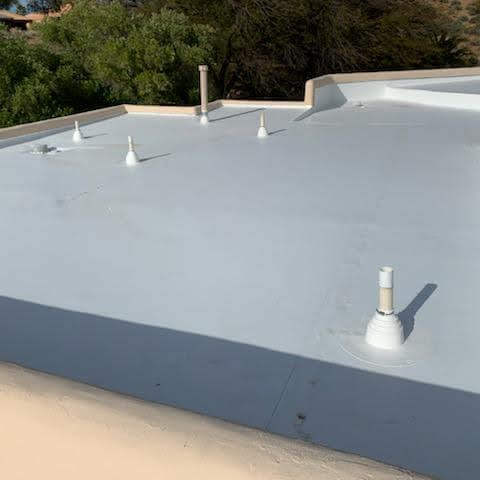 While many roofing contractors may tell you the reason for flat roofs to break down sooner than pitched roofs is because of water damage, more likely, at least in our experience, is that the original construction wasn't as good as it could have been. That's why we recommend working with an established contractor to get your residential or commercial flat roofs installed, maintained, and replaced.
Peel and Stick – Ideal for shed roofs and second story porches, peel and stick is exactly what it sounds like – it is self-adhering modified bitumen roll roofing. While it may be more expensive than shingles, it is much easier to install and is a common alternate roofing material to torch down.
Torch Down – More expensive than other options, torch down roofing requires heat at installation, is resistant to harsh weather conditions, and may last longer, making it a good long-term investment.
Ethylene Propylene Dienne Monomer (EPDM) – This is a rubber material that, when installed, has few seams, making it durable and more water resistant than other materials. The downside for roofing contractors is that it is challenging to handle during installation. Think of it as a giant sticker that needs to be installed without bubbles.
Thermoplastic Polyolefin (TPO) – Often used as an alternative to the traditional EPDM because the single-ply material is puncture and tear resistant, TPO is resistant to UV light, making it more durable than other materials. Not only that, it is available in black, gray, and white. In the desert, white roofs reflect rather than absorb sunlight, making the building potentially more energy efficient.

Which type of flat roof is best?
Working with your roofing contractor in Las Vegas, we work with you to determine need and budget to make sure your building is as safe and energy efficient as we can make it.
We are confident in the quality of craftsmanship of our flat roofs that we give each customer a 100% Satisfaction Guarantee in addition to a 10-year warranty. With proper inspections, care, and usage, a flat roof can last for up to 25 years.
Call Weatherguard Construction at (702) 860-0089 for a FREE ESTIMATE.