At Weatherguard Construction, we are dedicated to making sure your roof is installed properly and safely using the best materials for your Las Vegas home. We guarantee our work but not every roofing contractor does. Before signing a contract, read our list of the most common roofing mistakes so you know what to ask. Then call us.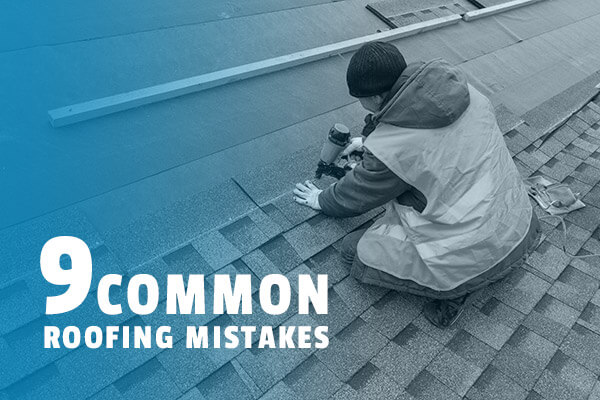 Common Roofing Mistakes
Most roofing mistakes can be avoided if the contractor takes the time to get proper certifications and permitting, is educated about the latest roofing materials, and takes the time to do the job correctly.
Most roofing mistakes can be avoided if the contractor takes the time to get proper certifications and permitting, is educated about the latest roofing materials, and takes the time to do the job correctly.
Lack of Bond, License, Insurance, And/Or Permit – When you need a roof repair or replacement, it is likely you've gotten a few estimates. We caution you to not go with the lowest bid. That's because they likely don't have the necessary qualifications, safety standards, and training that we have at Weatherguard Construction. We guarantee our work and are dedicated to safety and security. We're licensed, bonded, and insured, and we seek permits for jobs that require permitting. When you select us, you know you're selecting the best in the roofing business.
No Insurance – If a roofing contractor does not have insurance and one of their workers is injured at your home, you are liable to pay the damages. A reputable roofing company like ours will provide documentation of insurance and our insurance company will confirm we are insured for the amount we say we are. Insurance protects us as the contractor and you as the customer.
Poor Nailing Job – If shingles are nailed haphazardly, if too few nails have been used, or if nails are driven into the self-sealing strip, it can cause shingles to slip. This increases the risk of damage to your home and needs to be fixed.
Misaligned Gutters – While we live in a desert, we do experience rainstorms periodically. It is during these storms that roofs are most tested. If the roof valley, the part that channels water to gutters, is not placed properly, water may not handle runoff. If you see rainwater not running into the gutter or subsequent discoloration to ceilings and walls, call us immediately so the damage doesn't get worse. Left untreated, mold can grow and cause health issues and larger repair bills.
Choice of Materials – A common roofing mistake is in choosing the proper materials. Certain roof slopes require specific materials and your Las Vegas roofing contractor should be able to guide the selection. When the proper materials aren't used, there is a risk of damage to the roof and eventually to the rest of your home.
Not Letting the House Breathe – We're betting you didn't realize your home needs to breathe but it does. When it comes to common roofing mistakes, we've seen shingles installed without allowing ceilings or attics to vent which means the home isn't able to breathe. Lack of ventilation causes a build-up of moisture, potentially ruining installation and skyrocketing energy costs. Over time the shingles are weakened and repair is needed.
Misaligned Shingles – Just like the tires of your car have to be aligned, roof shingles need to be aligned. If the cutouts of shingles aren't installed properly, there will be gaps where water, debris, and unwanted critters have easy access to your home.
No Shingle Overhang – Let's assume the shingles are properly aligned, which sounds good but… if there isn't an overhang of an inch to an inch and a half off the roof, there may be trouble heading your way. If too short, there is a risk of rain damage and if too much, shingles can rip off in a windstorm, both of which happen here in Las Vegas. The result could be damage not only to the roof but to the structure of the home.
Improper installation of a new asphalt roof. Whether it is the law or not (as it is in some places), it is always unsafe and not recommended to install a new asphalt roof without tearing off the old one. The added weight of multiple layers risks the integrity of the home. Removing the old roof allows your Las Vegas roofing contractor the opportunity to inspect the roof deck for damage.
Professional Roof Inspection and Roof installation
At Weatherguard Construction, our mission is to keep you safe in your home by providing high-quality products and services. Call us today to learn more about how to avoid these common roofing mistakes.
Contact Weatherguard Construction Today
(702) 860-0089